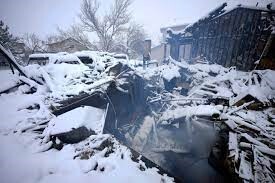 More than 1,000 homes have been destroyed by the Marshall Fire. While tragic and stressful, this should not cause a significant financial loss to any family properly insured. This is a great example of what your HOME insurance is designed to protect you against. However, for the Reid family, they are finding out that they were woefully inadequately insured. See the news story at https://www.thedenverchannel.c...

Even though the insurance company mentioned is a great company, the insurance company can only help out to the extent of the coverage purchased by the Reid family. We don't know the details of how such a poorly designed policy was provided to them. They either set it up themselves online without knowing how the coverages worked or an agent tried to win the sale by undercutting important coverages to keep the price low.
Ultimately, this ties back to a MAC blog written by Shaun Lane last year. You need to pay attention to your Dwelling coverage and the options for Extended Dwelling coverage along with Building Ordinance or Law coverage. Based on what the news has been saying about their HOME insurance coverage limits, I estimate the Reid home insurance policy used a rebuild cost of about $120/sq ft. That should have been a red flag.

We all have something to learn from the Reid family's terrible experience. In another MAC blog, Shaun Lane reminds us how imperative it is to review your HOME insurance coverages. Do you have enough coverage to rebuild your home in the event of a fire? Hopefully you do. But have you made any improvements to your home since we originally set up your HOME policy? For example, have you installed solar panels? Have you remodeled the kitchen or bathroom? Maybe you finished the basement during COVID? These are the types of things we need to know about so we can re-evaluate your coverage.
Please call or email your MAC agent right away if you would like a review of your HOME coverages. At MAC Insurance & Financial Services, we partner with A+ rated carriers to provide you the best overall value, which is a combination of coverage, service, and price. If at any time you feel the solution(s) we have provided for you are not meeting your expectations, PLEASE let us know. We will gladly revisit your personal goals and review your situation.
As a side note, if you want to help out the Reid family, please visit their GoFundMe page at https://www.gofundme.com/f/help-cindy-and-joseph-rebuild.
Wishing you peace, prosperity, and happiness!