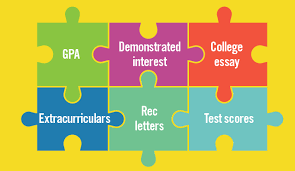 I've heard some parents say getting into college will be easier now that some schools are waiving the SAT and ACT scores. However, I found the opposite to be true. The admissions process is actually becoming murkier based on what I've seen these past two years. Highly qualified students are being put on a wait list or turned down from publics schools. And let's not mention how the private schools keep bragging about how selective they are.
Starting the college process as early as possible will help the student dedicate the necessary time to research and build a great application. The summer before high school junior year is a great time to start. Although, some families don't think about it until the summer before the senior year of high school. That's fine…but you are in a time crunch and will have to be extra diligent.
Here is what I suggest doing:
1. Build a Career List
The student should begin thinking about their future and brainstorm a list of possible careers they might enjoy. There are plenty of online quizzes that will provide suggestions for potential careers as well. Don't treat their results like the holy grail, but they can be helpful in kickstarting ideas. I personally like to conduct the Clifton Strengths Finder Assessment from Gallup to help create a list of potential careers.
Then I begin trimming down the list by visiting the U.S. Bureau of Labor Statistics website and looking at each career's future estimated job growth, required education, and average salary.
2. Build a College List
Referring the career list that you built, look for the commonality in degrees that each occupation requires. Look for the overlap so you can think about what major(s) and minor(s) you would like to study. Just remember to find something flexible enough so that as time goes on, you are capable of switching careers later in life…it's probably going to happen.
There are thousands of colleges in the United States. Start looking for the ones that offer the major(s) and minor(s) that you're considering. Next, factor in anything else that is important to you, such as class size, geographic location, "prestige", extracurricular activities, etc.
Common advice is to whittle your list down to about 10 schools. A third of them should be "Safe" schools. That means your GPA and test scores are higher than their average admitted freshman. The school's acceptance rate should be at least 40%. Another third of them should be "Match/Target" schools. This means your GPA and test scores are similar to their average admitted freshman. The final third of your list should be "Reach" schools. This means your GPA and test scores are lower than their average admitted freshman, but still within their range. Also note, that any school with an acceptance rate of less than 20%, regardless of your GPA and test scores, falls into this category due to their unpredictability.
3. Visit The Schools
I can't stress enough how important it is to visit the schools in person. Speaking from personal experience, I was 100% certain of which college I was going to attend...until I visited the campus. I was left underwhelmed. Two weeks later, my family visited another school on my list that I didn't seriously consider, but as soon as I stepped on campus, I knew that is where I belonged.
If you can't visit in person, I suggest looking into virtual visits if the school offers them. Otherwise, use the internet to see what other students are saying about the school. Don't rely solely on the school-made material because obviously it's their own marketing piece.
4. ACT/SAT Prep
Unless your entire college list consists of schools that say they won't even look at a test score, get ready to take one of these standardized tests. For the schools that say they are test-optional, a high test score is a great way to stand out above the others when it comes to admission and scholarship consideration.
There are many online, in-class, and tutor options out there. They range from affordable to relatively expensive. Either way, start preparing for one of these standardized tests and schedule the actual exam at a time when you're not super busy with other schoolwork or extracurricular activities.
5. Build Your Resume/Activity List

Generally your application to college will ask you to list your top ten activities. However, you are given limited space to describe each activity. But some colleges will let you submit your resume along with the application.
If your resume is lacking material, now is the time to get involved. Typically colleges don't want to see a student involved in lots of different things all at once. That tends to be viewed as superficial involvement. Rather, it's usually better to be heavily involved with just a couple activities that you are deeply committed to.
6. Ask for Letters of Recommendation

Many colleges require two letters of recommendation as part of your application. Typically these letters of recommendation will come from teachers. But some colleges will accept a letter from a coach, employer, a supervisor from a volunteer position or internship, etc.
Asking for a letter of recommendation in the summer gives them plenty of time to work on them. Offer to provide them a brag sheet about yourself if it helps give them some talking points to write a more personalized letter of recommendation. As for submitting their letter of recommendation, many times the person writing it will have to create their own online account that will be tethered to your online application. So if they're not tech savvy, you may need to help them with that.
7. Start Writing Your College Essays

The Common Application Prompts for the 2022-23 school year have been released. Even if one of your colleges doesn't use the Common App, chances are their essay questions will be very similar. Students should spend their summer working on their personal statements. The essay is essential, more so than years past. It is the student's first chance to distinguish themselves from other applicants and showcase their personality.
Don't try to write your essay in one sitting. Draft up some ideas. Make a bullet list. Write it, rewrite it, sit on it, rewrite it…repeat.
Regardless of whether or not you are applying to a competitive school, all these steps are important to follow. I know this is a lot, but I hope this outline helps. If you need more assistance, MAC Insurance & Financial Services offers an economical "DIY with a guide" program and multiple one-on-one options. Just reach out to our in-house college planner, JP, for more information.