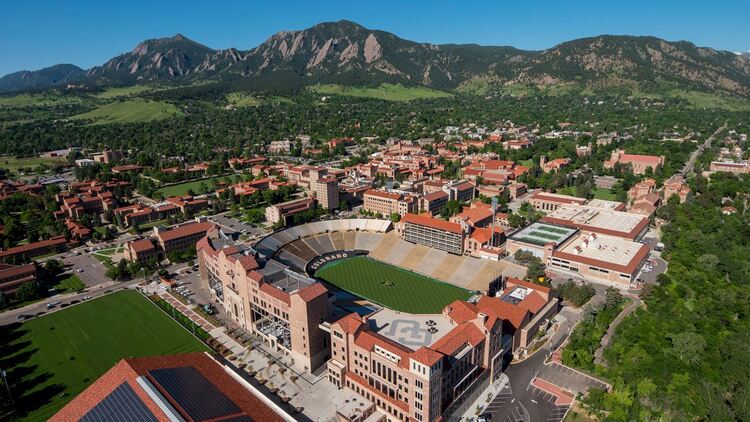 Why visit?
I cannot stress enough how important it is to take a college campus tour of a school your child is seriously interested in. While a tour seems like it would be a great experience, sometimes the opposite is true. Speaking from my own personal experience, a campus may appear to have it all when you're looking at it online, in a brochure, or hearing about it from a friend or recruiter. It seems this campus has the best professors in a particular major, an active campus life, beautiful and spacious dorms, championship sports, or whatever is important to you.
But visit a campus in person, and an entirely different picture might emerge. Oftentimes, the mental picture in your head about a campus is not what greets you when you show up for a campus visit. I have listened to what my students have said after visiting the campus of the schools they were certain they wanted to attend, but ended up not liking the campus. Over the years, I've picked up on what the families indicated as a "red flag" on their visits. So I want to share with you some of the warning signs to watch for before your child is ready to commit to a particular school for the next four years or more.
I truly believe it is crucial that you visit a campus with your own eyes, get a feel for the overall community, and ask lots of questions. Don't forget to take plenty of notes and photos on each campus visit. It can be as simple as visiting a rural campus and deciding your child needs more city than country, or a more complicated situation like safety on a campus.
What Should I Expect on a Campus Tour?
While I highly recommend partaking in an official campus tour, you need to also understand it's a bit phony. While most tour guides are students themselves, they are hired to be an on-campus recruiter. The tour guides are trained on what to say and probably will only show you the best features they have to offer. Knowing this gives you an idea of what a particular school values the most. If the tour guide talks mostly about two majors, one new dorm, and their basketball team, you know this is what the school is focused on. With that in mind, I suggest stepping on campus and walk around a bit before jumping on the official campus tour. Take note of what your initial organic impressions are before hearing the school's propaganda.
Ideally you should get a comprehensive tour of the campus by a guide who knows the whole campus and covers a wide range of topics. If the tour guide only shows the newly built dorm, but you realize there is a good chance your child won't get into that dorm, ask the tour guide to show you one of the normal dorms. Or ask the tour guide which dorms they lived in themselves and if they still live in a dorm or did they move off campus to an apartment. Ask them what they're doing and why they made that choice.

Colleges often host fairs for specific majors. These types of fairs should have faculty in attendance who can answer questions about courses, extracurricular groups connected to a field of study, along with internship and career opportunities. I strongly suggest my students ask about the internship opportunities as that is one of the best ways to land a career. Otherwise, why are you going to spend tens of thousands of dollars, or more, for college? There are much cheaper ways to gain knowledge.

When you visit a campus, try to eat the cafeteria food like what other students regularly eat. Sometimes a college tour is treated like a special event where the food might be catered and not indicative of what the food is really like on campus. But I can also say from experience if a campus has more than one dining hall, the quality of food can vary significantly from one building to the next. In the end, just make sure the meal plan meets your child's expectations. If the food is inedible, you could end up spending a lot of money on fast food for your child.

Next to visiting the campus in person, the second-best way to gain insight about a particular campus is to start reading their student college newspaper. Most college newspapers are uncensored, or partly so, by faculty and administrators. The newspaper can expose various issues on the campus, including students' concerns. For example, one family who hired me was concerned about the safety of a particular campus. The administrators and tour guides played down any problems. But when I pulled up the online student newspaper, I showed them multiple articles indicating this was a topic discussed regularly and more openly than the school wanted to admit.

Do You Know About Dorm Problems and Campus Modernization?
Don't assume all campuses are wired with high-speed internet. That might not be the case, especially if your student plans on attending a rural college, one near mountains, or in an area of the state where internet connection is lacking. I've been on campuses where the students complain about the internet crashing regularly and it's difficult for them to do research or finish projects. Personally, that's a deal-breaker for me.
If your student plans to live in a dorm, make sure you check them out thoroughly. While many campuses have spent millions of dollars to modernize their dorms, others have not. Some still look as if they are from the 1960s or 70s. While that might seem quaint and even cool, it usually is not. Older college dorms can have mold issues, problems with plumbing or heating & AC, and often colleges do not want to be forthright about it. Ask for a tour of more than one dorm, talk to students who live in different dorms, and research the newspaper to see if any articles have been written about the living conditions for a particular campus.

Be sure to walk all over the campus with, or without, a tour guide. Look to see how the grounds are kept and if trash cans are overflowing. Is the college body (faculty, administrators, staff, and the students) really proud of their campus? Is what you saw online or in a brochure matching what you're seeing in real life?

What Else Should I Know About a College Campus?
Another important stop on any campus tour is a visit to the career services department. You're sending your child to school to earn a degree and ultimately get a job. Ask if graduates have jobs within six months or a year after graduating. Find out how those jobs are broken down by major or industry. You want to find out if that school's graduates are unemployed, underemployed -meaning they are in jobs that didn't require a college degree- or if the graduates are being placed into employment befitting their degree.
A close friend of mine has worked in Academic Services for nearly 20 years at a few different universities. I've heard countless success stories, and failures, in how a university values and supports academic services, such as tutoring and providing support for those who have a special need that requires an accommodation. I know of a handful of very successful people, household names you probably heard of, who only succeeded in college because their campus provided excellent academic services. Parents should try to determine how accessible these types of support services are on the campuses they visit.

Parents should also think about their students' health. Inevitably as some point in their college career, there is a decent chance your child may need to access the university's health services for their physical or mental health. It's a good idea to ask to see the facilities or speak with the campus administrator to determine how accessible the health services will be.

Sadly we live in a world where we must ask about campus safety measures. Can anyone enter any dorm or any classroom? On some campuses, you have to scan your student ID to enter your dorm and the classroom. But on other campuses, anyone can enter any building. Are security procedures in place? Are they being enforced? Who is responsible for security on campus? Is it a school police force, the city police force, a combination of both and/or a private security company?

In the end, if your tour didn't go as expected, talk to the college admissions office. If they don't seem willing to assist, that college may not be the best fit for your child.