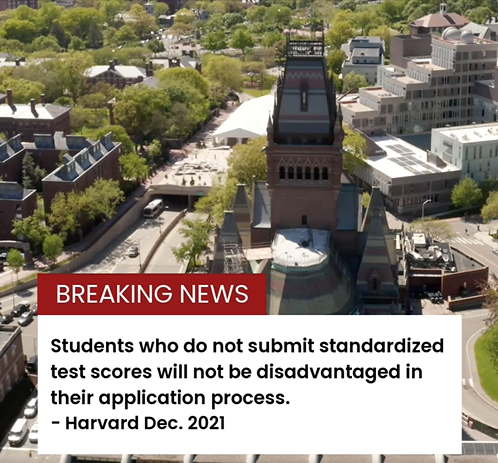 Here is a short list of some of the most common mistakes I see parents make every year when it comes to their child's college dreams.
1. RELYING SOLELY ON SAT/ACT TEST SCORES
College admissions have changed - significantly. Many colleges are Test Optional or Test Blind. High test scores may help your child qualify for a scholarship, but it's not necessarily guaranteeing admission. Many colleges have transitioned to a more holistic approach where they look at the whole student, their passions, uniqueness, and what makes them a good fit for their college. In many ways, it's like finding the right partner for marriage.
2. THINKING STRAIGHT A's WILL STAND OUT

When all the excellent students gather together, they are simply average among themselves… it's all relative. Imagine flipping through 1,000's of student applications -- they're all straight A's, they're all taking the same subjects, they're all saying the exact same thing. How is your child going to stand out? It's far better to share stories that reflect individual talent rather than mainstream repetition. Even more so when many colleges are electing to have standardized test-optional admissions policies. This makes the personal essay a critically important component of the application.
3. WAITING UNTIL THE SENIOR YEAR TO BEGIN THE COLLEGE PROCESS

Many families hire me as early as the 9th grade. I know some of my peers in this field advocate starting as early as the 6th grade. Personally I find that around 9th grade I can help students recognize their talents and passions. That helps me guide them on what real-life projects they can pursue so they can build a portfolio. This way, when your student graduates, they are ahead of their peers – they have a sense of purpose along with real-world experience and/or projects to showcase.
4. CHOOSING MAINSTREAM SUBJECTS RATHER THAN RECOGNIZING PASSIONS

What makes a student stand out? Colleges no longer want 'cookie-cutter' applicants. They are looking for creativity, something 'outside-the-box', perhaps even eccentric. Students need to showcase what they can achieve at a top ivy league college.
5. NOT GETTING REAL-WORLD EXPERIENCE

Think about how a student can highlight their difference. Is there a local competition they can enter? Is there a project they can volunteer in? Is there a local problem that they can help solve? Can they build or create a real-life application in their field of interest? It's these types of projects that capture the attention of College Admissions Officers. Something that makes them stop and think, "Wow! This student has really gone above and beyond to show what they are capable of achieving. This student would be a real asset to our college."
6. STOP BUILDING A "BLAND" EXTRACURRICULAR PROFILE

It's important to "zag when others zig." Students need to choose extracurricular activities that are relevant to the major they're pursuing rather than the common mainstream options like music, sports, clubs, and volunteering.
7. LISTENING TO OTHER PARENTS AND FRIENDS RATHER THAN INSIDER EXPERTS

It's sometimes more confusing and frustrating listening to others who 'think they know' rather than focusing on listening to those who 'actually know'. I quietly sit in various online blogs/groups/chats with parents asking questions and other parents sharing their advice. The problem is oftentimes parents are sharing incorrect advice. Or they share something that worked for them, but clearly won't work for a different family. You can run a google search and learn all sorts of information about how to plan for college. However, information is not the same as insight. Knowing which information applies to your situation, knowing what the correct path is for your situation – that is insight.
Rather than complicate matters, MAC has made it easy for parents. You don't have to try your best to figure it out on your own. MAC has an in-house college planner who brings 20+ years of experience. MAC's in-house college planner can help your student get admitted into a great school. Plus he can help you not overpay. Four of out five families incorrectly fill out the forms for financial aid, which means they don't receive as much free money as they should. MAC's in-house college planner will help make sure you qualify for as much free money as possible.

MAC's in-house college planner will also help you figure out your budget so you know how much you can afford to pay for college. In the end, there are only three ways you can pay: 1) pay from your income, 2) pay by liquidating assets, or 3) pay by taking loans. Whatever solution works best for you, MAC's in-house college planner will show you the costs for each college your child chooses, but he will also help you find colleges that fit your budget.

Don't wait until it's too late. Preparing for college begins in the Freshman year of high school. However, we can still help families who wait as late as the Junior year of high school. Regardless, contact MAC's in-house college planner today to see how we can help you.