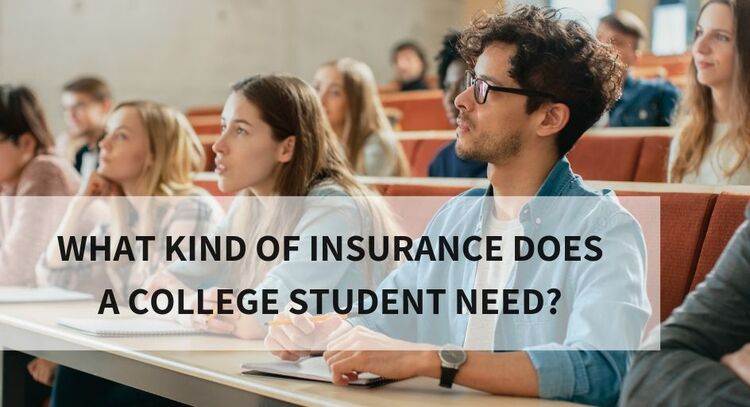 Having the right kind of insurance in place is a vital part of your family's financial protection. While insurance is usually not on the student-going-to-college checklist, it should be. Often times parents forget to adjust their insurance protection when their children leave for college. Yet it's vital to make sure your insurance protection keeps up with the changes in your household. Here are some real-life examples showing just how important it is to pay attention to your insurance plans.
1. RENTERS INSURANCE

Even if the parents have a home insurance policy in place which might extend coverage to their child while attending college, often times it makes sense for the college student to have their own renter's insurance policy while at college.
Real life client: one of my past college-planning clients has a son who was studying music in college. Specifically he played a cello. The cello his parents purchased cost $10,000. I mentioned to the parents that theft on college campuses is quite common. Even something as big as a cello can easily be stolen from a dorm room.

The parents knew their home insurance policy had a $2,000 deductible. But they never read the fine print of the actual policy. I reviewed it with them and showed them where their particular insurance company put a limit of $2,500 in coverage for musical instruments. So if something should ever happen to the cello, the parents really didn't have much coverage. Plus, if the parents ever filed a claim on their home insurance, their rates were going to go up by about 35% for the subsequent three years.

To fix this problem, I helped them find a renters policy for their son that only cost about $150 a year. It had no restrictions or limits on coverage for musical instruments. And the deductible was only $250. Sure enough, in their son's junior year the cello was stolen from their son's apartment. Thankfully, they maintained the insurance I helped them find and they were able to make a claim and get reimbursed for the cello minus their deductible.

2. AUTO INSURANCE
Many colleges don't allow freshman to bring vehicles to campus. But in later years, your child may need a vehicle to get to an off-campus job or internship. If your child brings a car to campus, often times it is cheaper to keep them on the family auto policy. But there are circumstances where it makes sense for the child to set up their own auto policy. It's best to talk to your insurance agent and let them run the scenarios for you.
But even if your child does not bring a car to campus, you may still want to consider leaving them on your auto policy. Check with your insurance agent because there may be a discount if your child is attending a college far enough away, usually 100 or more miles.

Real life client: almost every year I have a student who was crossing the street, or riding their bike, on their way to campus and they get struck by a hit-and-run driver. My most recent example was a family who lives in California and their son attends the University of Miami. He was struck by a hit-and-run driver and dragged for about a block. He was left with a broken leg, broken wrist, and severe skin abrasions which required multiple skin graft surgeries. Thankfully, his parents' auto insurance had up to $100,000 in un-/under-insured motorist bodily injury coverage. They were able to make a claim on their auto insurance to help pay the bills not covered by their health insurance as well as the extra costs he incurred trying to keep up with his schooling while he spent six weeks in a hospital.

3. HEALTH INSURANCE
Every college requires health insurance and nearly all of them offer their own health insurance plan. Many colleges automatically charge you for their health insurance, which leaves you to manually follow up with them to get their coverage waived. To do so, you must show your child is covered under your health insurance plan and the coverage meets, or exceeds, the insurance coverage required by the college. The process of proving you have adequate health insurance in place repeats every year.
If your child does not have adequate health insurance (again the requirements are set by the college itself), then they will be provided health insurance by the college and the cost will be added to the tuition bill. But before you opt to just settle with the health insurance provided by the college, I encourage you to shop for a personal plan that meets the college's requirements. You might be able to secure a personal plan at a better price than what the college charges. Just make sure there are in-network providers that are close to the college.

Real life client: a family approached me when their child was about to begin her sophomore year. They were looking for ways to cut costs and I initially helped them with financial aid. Upon reviewing their paperwork, which included the bills from the freshman year, I noticed the family paid about $3,000 for health insurance from the college. I asked if their child was still on the family's health insurance and they confirmed she was. The parents simply thought the school's health insurance was mandatory and didn't realize it could be waived. That was an immediate savings for the upcoming sophomore, junior, and senior years.

4. TUITION REFUND INSURANCE

If you are concerned your child may leave school for reasons from anxiety to serious illness, tuition insurance can provide reimbursement for expenses from tuition to room and board.
Before you consider purchasing tuition insurance, check with the college and look at their refund dates for tuition, fees, and room and board. Then compare the cost of tuition insurance with what you could potentially lose.

If you don't have tuition insurance and your student leaves school mid-semester, past the refund date, discuss options with the college's bursar department to see if part of the tuition or room and board payments can be refunded.

Real life non-client: back when I was a director of financial aid at a private university, I remember a student who withdrew from college after the full refund date, which was 3 weeks after school started. Despite withdrawing after the refund date, she withdrew too soon to keep all her federal aid. A portion of her federal aid was required to be returned, which left her owing a few thousand dollars on top of what her parents' portion of the bill was. Had they purchased tuition refund insurance, they could have made a claim to cover the unpaid college bill for tuition, room, board, and other mandatory fees along with repaying the private loan the parents took for that semester.

5. LIFE INSURANCE
Sadly, this is something every family should think about. Accidents happen. A student can get a minimal life insurance policy to cover funeral expenses and the cost of repaying college loans if something happens. Term life insurance for a 10/15/20 year period on a student should be cheap.
For federal student loans, the amount owed is canceled in the event the student dies before paying off the debt. That doesn't typically happen with private student loans, which are more like traditional loans and still must be paid off. These types of loans also typically require a co-signer, who becomes liable for paying off the loan if the student dies.

In some cases, the private loan's repayment schedule is accelerated after a death or can even require immediate repayment in full. This may put the co-signer in a serious financial bind as they struggle to pay off the loan or damage their finances and credit rating in the process. A student life insurance policy will pay off the remainder of the loan in the event of a student's death and protect the co-signer financially.

Student loans aren't the only way to pay for a college education. Parents of students can finance their child's education through various methods, including home equity credit and 401(k) loans. If the student dies prematurely, these debts still need to be paid off, which can take a heavy financial toll on a family. A term life insurance policy on the total amount of their expected college debt will help cover these expenses.

Real life non-client: Francisco Reynoso died in an accident right after graduating Boston's Berklee College of Music. The relatively small amount of Federal loans was canceled by the Department of Education. However, Francisco took out over $100,000 in private loans to cover the rest of the costs of college, which he asked his dad to co-sign. Those private loans were not forgiven and Francisco's dad is left to pay.

As parents, we want the best for our children. But we should not be stuck over-paying for college nor should we be unprepared for accidents… because they happen every day.

Have questions? Contact your in-house college planner at MAC Insurance & Financial Services today.