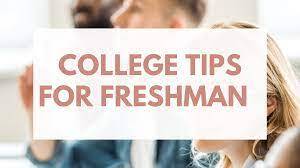 To all incoming college freshman,
You're no longer in high school. So that means if you were popular, smart, quiet, nerdy, the loner, or whatever in high school, that doesn't mean that's who you'll be in college. You start college with a clean slate. You have been entrusted with a lot of independence and you're now expected to make some critical decisions on your own that have the potential to impact the rest of your college years and beyond.

With that in mind, I compiled my top 10 tips on how to make the most of your college years. Some are things I learned the hard way when I attended college. Plus I've included many anecdotes that my students have shared over the years.

1. Go to all the orientations
The faster you find your way around campus and learn how to use all its resources, the more at ease you'll feel. Know where the student health center is located. Know what tutoring services are available. When a problem arises, it's good to know which office you can turn to.

2. Befriend your roommate and others in your residence hall

Be intentional about meeting someone new every day. Having a network of other new freshman and some older classmates can be invaluable when it comes to learning the ropes… plus it helps when it comes to fun social activities.

3. Get involved on campus

Going to college isn't all about studying in your dorm and going to classes. Get involved with a student organization. It'll help you network, make more friends, and reduce homesickness.

4. Get organized

In college, professors create a syllabus for the entire semester outlining what you're expected to read each week, when projects will be due, or when exams will be held. Professors don't want to hold your hand and remind you every day. Rather, you're expected to stay on top of your deadlines yourself. Use a calendar to schedule reminders for projects, tests, block out time to study, and maybe even fit in a part-time job. Having everything on your calendar will help you stay organized.

5. Get in the habit of working ahead

Seriously, your future self will thank you. Getting a head start on the next assignment or project means less stress down the road. Plus, the quality of your work tends to be better. But this really helps out when something unexpected pops up, like a fun weekend trip. Working ahead creates a buffer that you'll really appreciate later in the semester when you have multiple projects and tests to study for.

6. Meet with your professors

As a former faculty member, I cannot stress how important this is. There are only upsides to getting to know your professor and letting them get to know you. Professors schedule office hours solely for meeting students – whether it's to help explain a concept, answer/debate a question, or possibly help you out later on when you need a letter of recommendation for grad school or to network with older alumni when it comes to looking for a job.

7. Stay healthy

Whether it's your physical or mental health, don't let things slide out of control. Eat healthy, exercise, talk to a counselor, etc. Don't let your health get in the way of your college fun and success.

8. Keep track of your money

This one is hard because most high schools don't teach financial literacy plus many parents themselves are financially illiterate. But as a freshman, now is the time to make sure you have a budget and you're tracking where you're spending your money. Make sure you're not spending more money that what you have. If you don't have a credit card yet, I suggest doing so now. But be aware of the many bad credit card offers swarming college students. Do your research and get a good card. Again, don't overspend. Be sure to pay off the credit card each month in full.

9. Create a LinkedIn account

Unlike other social media platforms, LinkedIn is the one to showcase your professional self. You can treat it like an online resume. Or better yet, you can use it to build your "personal brand" and network with other people who share similar interests, such as alumni, careers, etc. Take some time once a week to mindfully engage in other people's posts and create your own engaging posts. Whatever you do, the point is to be connecting with working professionals.

10. Find the Career Services Office

Even as a freshman, it's important to plug into the Career Services Office. In the end, landing a career we love is why we're going to college. Visit the Career Services Office to look for possible internship opportunities as early as the summer after your freshman year. This is the time to be planning, preparing, and acting on your future.

Final Words – Don't' be another statistic. Find your purpose. Reinvent yourself if you want to. Make new friends. Have fun. Make the most out of your college years!