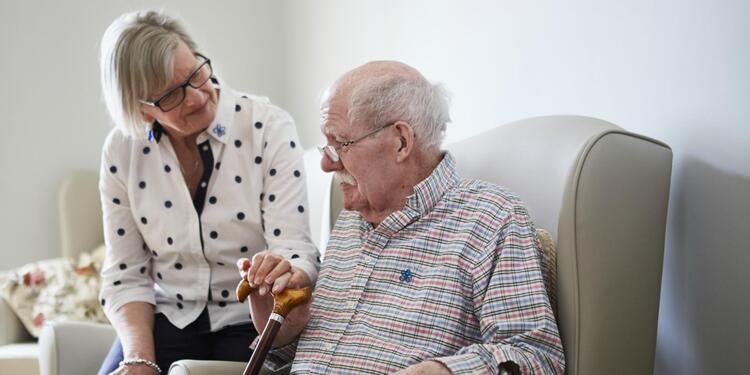 Dealing with the death of a loved one is hard. Death of a loved one during festive holidays is even harder. But death of a loved one without the important insurance in place can put the rest of the family into a crisis.

Why do I bring this up?

Unfortunately my family spent this past holiday season in mourning. My wife is a daddy's girl through and through. Sadly, her dad passed away after a few years of ongoing Alzheimer's and physical decline. While the death of any loved one is unbearably hard, dying without the important insurance in place made it extremely difficult on us.

My wife and I are part of the "sandwich" generation. By that I mean both sets of our parents are older than 65 and need our help, plus we take care of our own child. There is a stark contrast between my parents and my wife's parents when it comes to retirement planning. Roughly 30 years ago my mom started a job at our local bank as a financial planner. She understands the importance of setting up a secure retirement. Along with investing in the market, she placed a portion of their money in permanent life insurance, annuities, and long-term care insurance. She has taken the necessary precautions to ensure that she and my dad will be able to enjoy their retirement and not be a financial burden on us kids.

However, my in-laws are in the exact opposite situation. They worked hard, had good jobs, and made good money. They made a good life in Southern California where they owned a nice home and raised their kids. But as I've come to find out, my in-laws were never taught financial literacy. They were never taught how important insurance is to protect their income, their assets, their retirement plan. By the time I came into the picture, it was too late.

My father-in-law thought his pension and social security would be enough to live comfortably in retirement. My mother-in-law likes to day-trade with a good portion of her money. But otherwise, she lets an investment advisor handle the rest of their money. But that investment advisor isn't a financial planner nor a retirement planner. My in-laws never talked to the appropriate advisor when it came to their retirement. So they never implemented any of the necessary financial tools to safeguard their retirement plan, which usually consists of permanent life insurance, long-term care insurance, and/or annuities.
What my father-in-law didn't predict is that his pension benefits would not keep up with inflation. And he misjudged how (un)helpful social security would be. It got to the point where his retirement income wasn't enough to cover the basic costs of living. From the time he retired until he passed away, the cost of goods nearly doubled. Thankfully his wife still had a job and was making a good enough salary to pay for things… until she wasn't.

Early in 2020, her company was bought out by another company and nearly all the employees of the acquired company were let go, including my mother-in-law. Then COVID struck and the world basically shut down. She watched her investments begin to lose value and she suddenly realized she was over-exposed in the market. At her age, she was unable to find another job. But at the same time, my father-in-law's health began to rapidly decline. So my mother-in-law began taking care of him more and more each day. It got to the point where she had to bathe him, dress him, and help him walk up and down the stairs..

My wife and I relocated to be near her parents so we could help out as much as we could. But our time was limited between our full-time jobs and taking care of our newborn son. When I would spend time with my father-in-law he knew his days were coming to an end. He kept telling me that he wanted to spend his last days in his home. He didn't ever want to be sent to a nursing home. And with his memory declining, his home was one of the few things he could remember and helped make him feel comfortable.

This went on for about 18 months. But then, my mother-in-law's health took a turn for the worse and she required major heart surgery. She was put on bed rest and couldn't lift anything over 5 pounds. There was no way she could continue to care for her husband.

That's when we had to make a terrible decision. We couldn't afford in-home health care. Where we live, that costs nearly $10,000 a month. So we found a nearby assisted living home that was within the family's budget. He was only five minutes away and we'd visit a few times a week. During the first two months, my father-in-law would beg us to take him out of there and let him live at home again. It crushed my wife that we'd have to tell him that's not possible because no one is available to help take care of him. He didn't understand. He was terribly upset… which just further broke my wife's heart.

Sometime during the third month, I noticed my father-in-law wasn't asking to go back home. It wasn't because he became comfortable at the assisted living home. Rather, it was because he'd given up. His eyes became hallow. It was like I was seeing a ghost of my father-in-law.

During the fourth month at the assisted living home, we got the dreaded call. We were told he was being rushed to the hospital. By the time we got there, plans for hospice were being drawn up. Less than a month later, my father-in-law passed away in a strange place, in a strange bed, sharing a room with a stranger. We were all by his side, but he didn't know it.

Every time I look back on the situation I cry on the inside because I feel like we failed him. His only wish was to live his final days at home. But we couldn't honor that wish simply because we couldn't afford it. Had I been part of their lives a little bit sooner, I could have helped them set up an affordable life insurance policy that provided living benefits such as chronic illness or terminal illness care. Everyone in the family would have happily helped pay the premiums as this was more affordable than the actual health care expenses we incurred. This type of life insurance would have given us the financial means to hire in-home care for my father-in-law. He could have spent his final days as he wanted… in his home.
I don't want anyone to feel the way our family does right now. That's why I'm yelling from the mountain tops, I'm screaming in the valleys, and perhaps I'm preaching to the choir –

"Make sure you have secured your retirement plan with the right insurance in place. Do it for yourself and your family!"

For pennies on the dollar, if the right insurance policy would have been set up, my father-in-law could have spent his final days in his home.

If you have not looked at how life insurance, annuities, or long-term care can help safeguard your retirement, I encourage you to do so now. Don't wait another year. If you want to talk about your situation, reach out to MAC Insurance & Financial Services today. We have the resources to help you.