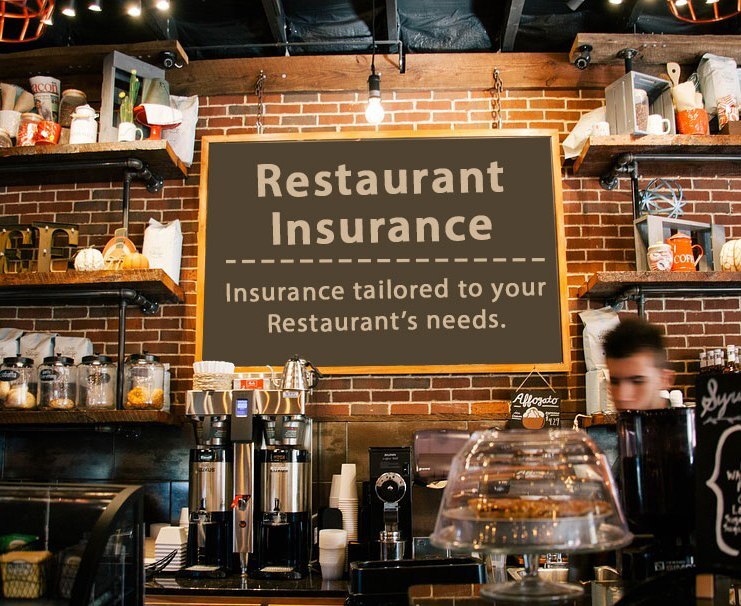 It might be fair to say my wife and I are foodies. And boy do we love a great cocktail or a nice wine that compliments our meal. I think that's why I pay so much attention to how difficult it is to run a great restaurant, supper club, speak easy, or sports bar.
Running a restaurant is challenging. Restaurant owners face specific risks that other types of industries don't have to worry about. Not only do you have to worry about the customer experience, food quality, service, and your staff… but you also have to run the back office. As you can imagine, things like taxes, insurance, customer safety, profitability, and regulations can take up a substantial amount of your time and energy.

That's why I took the time to write this post. Restaurant owners are spread thin with their time and usually don't properly research their insurance needs. So many things in the day-to-day activities of a restaurant will be out of your control. You can never predict which customer is going to spill a steaming hot cup of coffee on their lap and suffer third-degree burns. But you will have to deal with any legal and financial consequences.

So I'm drawing upon my years of experience of successfully helping restaurant owners with their insurance needs and want to provide you this outline when it comes to managing the insurance aspect of your restaurant business. I'll be addressing what types of insurance you should consider and the basic factors that affect the cost of insurance.

So who am I talking to?

When I refer to restaurant insurance, I'm speaking to all types of hospitality businesses, such as bars, taverns, pubs, local breweries, sports bars, night clubs, pizzerias, delis, food trucks, as well as the full service and quick service restaurants.

What kinds of insurance do restaurants need?
1.Liability insurance

The United States is the most litigious society in the world. Americans sue more frequently than citizens anywhere else do. So depending on what your restaurant provides, you are exposed to a variety of legal risks. Lawsuits can seriously cost you and your business, in the form of financial penalties or simply in legal fees to defend yourself. Sometimes innocent business owners have to close their business simply because they cannot afford to defend themselves in court. If you don't want something like this to happen to your business, you need to have in place the right type(s) of liability protection.

1A. To start with you will want to look for a Commercial General Liability policy (some insurance companies will give it a special designation such as restaurant liability). This is one of the core coverages that every restaurant should purchase. It protects you against property damage or bodily injury that you cause to customers. The most common claim I see filed on restaurant insurance policies is the "slip and fall" claim. This is usually a customer slips on water/ice, or trips over something lying on the floor, and injures themselves when they hit the ground.

Most of the time this is a "medical payments" claim. This part of your policy is designed to pay for small medical bills usually up to $5,000 or $10,000, regardless of fault. However, these claims can sometimes cost more or escalate into a lawsuit. This sort of thing is almost always covered under the general liability insurance policy.

1B. Usually added as a rider/endorsement to the commercial general liability policy, you will probably want Communicable Disease Liability coverage as well. This will protect you from a lawsuit if an illness is transmitted to a customer due to improper hygiene of your employees or mishandling of the food. When you own a restaurant, allegations of food poisoning come with the territory. Some of these claims may be groundless, but others might not be.

1C. Employment Practices Liability Insurance (EPLI) protects your restaurant if an employee ever claims discrimination, wrongful termination, or harassment. If you run a small- or medium-sized restaurant, you likely don't have a robust employee handbook, necessary documentation, or a comprehensive human resources department to protect you. You also probably don't have the budget to cover the legal costs. That's where EPLI has your back. EPLI is great protection for your restaurant, but it isn't a substitute for getting acquainted with federal and state employment laws. EPLI can usually be added as a rider/endorsement to a commercial general liability policy. But sometimes you can purchase it as a separate stand-alone policy.

1D. If you serve any kind of alcohol, chances are your state will require you to hold Liquor Liability coverage to maintain your liquor license. In some states, you could be held liable for your customer's drunk driving accident; in others, you might get listed on the lawsuit and have to fight your way out. This coverage protects your business from the legal liability arising out of overserving an individual. It also covers you if an accident occurs as a result of you serving an individual. It too can usually be added as a rider/endorsement to a commercial general liability policy. But like EPLI, sometimes you can purchase Liquor Liability as a separate stand-alone policy.

1E. Hired and Non-Owned Auto Liability protects your business from a lawsuit if someone associated with your restaurant causes damage with a vehicle that your restaurant doesn't own. A common example of this coming into play is when you ask an employee to pick up a few supplies for the restaurant. While driving their car the employee gets into accident which causes damage to someone else's property. Since they were running a company errand for your business, your business could be held liable. This protection usually can be added as a rider/endorsement to the commercial general liability policy or a commercial auto policy.

1F. If your restaurant provides valet service, you will need Garage Keepers Liability coverage. A standard commercial general liability policy does not cover auto accidents. Garage Keepers Liability insures the customers' vehicles while in your custody. I can share a personal example of this one. My wife left her car with valet. The younger attendant parked it with no problems. When she returned, the older attendant had to move a car out of the way in order to pull out my wife's Jeep… that car happened to be a Tesla. The older attendant wasn't used to an electric car's initial torque and slammed into a car in front of him. Panicked, he put the Tesla in reverse and slammed into my wife's Jeep. In a matter of seconds, the attendant caused over $30,000 worth of damage to three different cars.

1G. If your restaurant uses technology for online or mobile orders and the customer's payment information is hacked, you will need Cyber Liability insurance to protect you. If you keep personnel records and/or payroll records online, again you will need Cyber Liability insurance. There is no perfect way to protect information or data when it's stored online. Every system is hackable, and criminals are going after the low-hanging fruit. According to the Ponemon Institute, 61% of small businesses experienced a breach in 2017, and according to the National Cyber Security Alliance, 60% of small and medium businesses that suffer a cyber-attack are out of business within six months of a breach. A Cyber Liability policy should cover expenses relating to the investigation of a data breach, the cost of legal counsel, the cost of communicating the breach to customers—which is required by mail in many states—as well as costs related to business interruption if your network is down and public relations expenses. These policies also cover third-party costs, including their legal defense costs and resulting settlements and judgments, any liability to banks for re-issuing credit cards and notifying customers, and regulatory fines and penalties. Without the proper insurance, this can quickly add up to multiple tens of thousands of dollars. Like some of the other coverages noted previously, cyber liability protection can be added as a rider/endorsement to a commercial general liability policy or purchased as a standalone policy.

1H. While not necessary, it's also a good idea to consider Commercial Umbrella Insurance. It would be purchased as a separate policy and is meant to provide an extra layer of liability protection on top of your other liability coverages. In the event a claim hits the limit on any of the previously noted liability coverages (plus liability on a commercial auto policy), a commercial umbrella insurance policy can provide excess liability protection for your restaurant. For instance, let's say a customer had a really bad slip and fall accident that left them paralyzed. It's completely reasonable to anticipate the lawsuit to exceed a $1M or possibly even $2M. Once the limit on your frontline commercial general liability has been paid, a commercial umbrella insurance policy would kick in to pay the remainder of the lawsuit up to its limit, usually a supplemental $5M or $10M on top of your frontline liability policy.

2. Property Insurance

Although the commercial general liability policy probably sees the highest frequency of claims, the restaurant property insurance policy will usually see the highest cost in claims.

2A. Property insurance protects the things your business owns, which could be the building, your restaurant equipment, the tables and chairs, or food in the freezers, so one and so forth. If a fire, storm, or theft cause a loss, the right property insurance will cover it. Since restaurants usually operate with open flames, gas lines, and water pipes that could leak or burst, property insurance is a must-have coverage.

2B. Business interruption insurance (aka business income insurance) is coverage that provides financial support to your business in case you ever have to close temporarily because of a covered event, such as a fire or a pipe burst. But admittedly there are plenty of uncovered events, such as the lockdown during Covid. Business interruption insurance pays out for lost income, taxes, and payroll, and it might even cover the cost of renting a temporary location if you need one. Basically, it helps your restaurant pay the bills until you get back on your feet. Look to add business interruption insurance as a rider/endorsement to your main policy.

2C. Boiler & Machinery is an old-fashioned term still used in the insurance industry. Nowadays we're more used to calling it equipment breakdown insurance. This is designed to protect your electrical equipment (e.g. boilers, freezers, AC unit, etc) if they should suffer a mechanical or electrical breakdown (but not normal wear and tear). Operator error accounts for 35% of all mechanical breakdowns. 25-50% of a company's electrical infrastructure can be damaged in a single event known as "electrical arcing." Sometimes this coverage can be added as a rider/endorsement to the standard Property insurance policy and sometimes it's better to buy a separate stand-alone policy.

2D. Your standard property insurance policy may or may not provide Signage coverage. This protects your signage from things like weather and vandalism. Even when it does, be sure to check for the policy's limitations. If you don't own the building that the signs are located on, you may not have coverage at all. It's especially important for restaurants with a drive-thru, with all the extra signage that could be damaged due to distracted drivers or vandalism.

2E. Employee Dishonesty Coverage compensates your restaurant for financial damages if an employee steals from you – directly or indirectly. Theft by employees is usually an excluded peril under a typical property policy. To protect your business, you'll need to buy employee theft coverage as a rider/endorsement to the commercial property policy. The U.S. Chamber of Commerce estimates that American businesses lose $50 billion annually due to employee theft and dishonesty—and it may take over a year to catch a dishonest worker. You would be shocked to know just how common restaurant employee fraud is. Don't pass this coverage up.

*Business Owners Policy (BOP)*

Often you'll hear an insurance agent say they set you up with a BOP. A BOP is simply a commercial general liability policy (including the various riders/endorsements) combined with a commercial property policy (including its various riders/endorsements) into one convenient policy. It's a great way to simplify your insurance protection into one nearly comprehensive policy. In fact, many restaurants are adequately protected with a well-designed BOP plus Workers Compensation policy.
3. Workers Compensation insurance is an insurance policy usually required by your State government. It pays for an employee's lost wages and medical bills arising from injuries incurred on the job. This is really important for restaurants because your employees are usually moving about with haste –often carrying things, working with knives, climbing on chairs, reaching overhead, or touching hot surfaces. On a side note, every State sets its workers' compensation requirements. That means every insurance company sells the same workers' compensation policy. But they can have different premiums. How much your workers' compensation policy costs will have more to do with your number of employees and the classification of work they perform.
4. If your restaurant owns a vehicle or offers any sort of delivery or catering service, your business is at risk and you will need to consider Commercial Auto insurance. A standard commercial auto policy is designed to protect the vehicles owned by the restaurant. But as I noted previously, through a rider/endorsement you could add Hired and Non-Owned Auto Liability. Doing so means your restaurant is protected if your employees are using their own cars to make deliveries for you. As a side note, there is no need to double up on the Hired and Non-Owned Auto Liability coverage. Either add it to your General Liability Policy or to your Commercial Auto policy, not both.
Let's talk costs.
Insurance costs for restaurants vary dramatically and often come down to the operations. A small submarine sandwich shop might be able to get all the relevant coverages (they probably wouldn't need liquor liability or garage keepers) for $2,500 per year, whereas a large restaurant that owns a building and has delivery operations might be $10,000 per year.

Although insurance companies do have certain premiums they need to collect, some discounts are available to customers. There are several ways to get additional discounts on your restaurant insurance policies.
While reviewing an application for property insurance, insurance companies will always ask, "What fire suppression systems are in place?" The answers range from the building being sprinklered to ANSUL systems being installed in the kitchen. Since the possible risk of a fire is a huge concern for insurance companies, the more fire protections your restaurant has in place, the better your insurance rates are going to be.

In a similar manner, the building that you're leasing or own will affect your insurance rates. Older buildings are seen as riskier than newer buildings. Making sure the building is up to date with all the building codes and safety standards can have a large impact on the insurance rates.

Try to mitigate slip and fall risks. You might get a discount if you have written procedures to mark wet floors and addresses other safety issues.

On a side note, never lie about your restaurant's protective safeguards in attempt to get approval or a lower rate. If you state that you have certain fire protection in place, but then remove that equipment or don't keep it in working order, your insurance company can deny a fire claim.

If possible, try to keep alcohol sales below 50% of all sales. Unless you are running a fine dining restaurant, keeping your alcohol sales below 50% of revenue will keep you in a lower cost classification. If your liquor or alcohol sales surpass 50%, insurance companies will start to see you as an alcohol establishment that also serves food. There are exceptions for this in certain types of restaurants, such as fine dining (with expensive liquor), breweries, distilleries, and wineries.

Also you should know that food delivery increases insurance costs. If you start offering delivery services with employees using their personal autos, the price of this coverage can start at roughly $1,500 per year on the low end.

Summary
Restaurant insurance is an important ingredient to any successful establishment. It allows you to pay an annual, quarterly, or even monthly premium so an accident doesn't permanently shut down your restaurant. The right insurance protection will help you deal with problems as they arise so that you can continue to spend your time running the front end of your restaurant.
Of course, every restaurant is different and your insurance needs will vary depending on the type of restaurant you run. The best advice I can provide is don't try to find all the insurance on your own. Chances are you'll end up paying more money and having less protection. Instead, please work with a qualified insurance broker to learn about the types of insurance your restaurant will need. If you happen to be located in any of the following states, please contact me: AZ, AR, CA, CO, CT, FL, GA, IL, KS, MD, MI, MN, MO, MT, NV, NM, NC, OH, OK, OR, PA, SC, TX, UT, WA, WI.
You can email me at JPSchmidt [at] MACIFS [dot] com.

J.P. Schmidt (National Producer # 2674885)
– Standard Disclaimer –

All information provided is generalized and not specific guidance for your unique situation.